Diwali, the festival of lights, is just around the corner, and it's time to immerse ourselves in the joyous spirit of this vibrant festival. Along with the sparkling diyas and colourful rangolis, the aroma of delightful sweets and savoury snacks fills the air, signifying the essence of sharing and togetherness. What better way to celebrate this auspicious occasion than by preparing lip-smacking delicacies at home? Elevate your Diwali festivities with these five delightful recipes that add extra sweetness to your celebrations.
Explore these 5 Quick and Easy Diwali Recipes for Your Festive Celebrations This Year
1. Tempting Besan Ladoo
Besan Ladoos are a traditional Indian sweet without which no Diwali celebration is complete. Made with the goodness of gram flour, ghee, and aromatic cardamom, these golden-hued spheres of sweetness are an absolute delight. Use Suhana's Besan Ladoo mix to make the process more convenient and time-saving. Find the step-by-step recipe below:
Ingredients:
Suhana Besan Ladoo mix – 1 packet
Ghee – 1 cup
Sugar – 1 cup
Cardamom powder – 1 teaspoon
Chopped nuts for garnish – as desired
Cooking Instructions:
Heat ghee in a pan and add the Besan Ladoo mix.
Roast until it turns golden brown and aromatic.
Add sugar and cardamom powder and mix well.
Let it cool slightly, then shape into round balls.
Garnish with chopped nuts for an added crunch.
2. Crunchy Chakli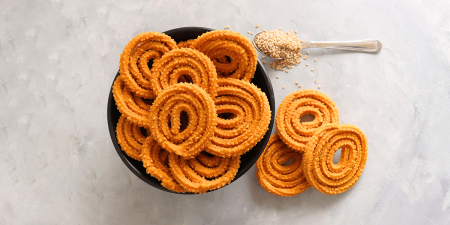 Chakli, a popular savoury snack, is a must-have during Diwali. With Suhana's Chakli Masala, you can effortlessly prepare this crispy, spiralled delight. Here's how to make this savoury treat:
Ingredients:
Suhana Chakli Masala – 1 packet
Rice flour – 2 cups
Besan – 1 cup
esame seeds – 1 tablespoon
Butter – 2 tablespoons
Oil for frying – as needed
Cooking Instructions:
Mix rice flour, besan, Chakli Masala, and sesame seeds.
Knead into a soft dough with butter and water.
Use a chakli maker to create spiral shapes.
Fry until golden brown and crispy.
3. Delectable Chiwda Mix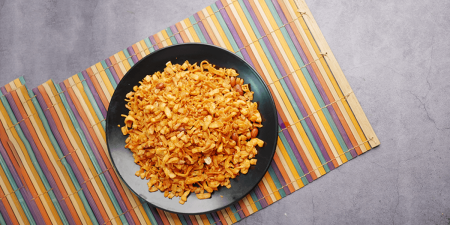 Chiwda, a savoury snack mix, adds an extra zest to your Diwali celebrations. With Suhana's Chiwda Masala, you can create a delightful blend of flavours that will leave everyone craving more. Here's how to make this savoury treat:
Ingredients:
Suhana Chiwda Masala – 1 packet
Puffed rice – 4 cups
Peanuts – 1 cup
Raisins – 1/2 cup
Curry leaves – a handful
Oil – 3 tablespoons
Cooking Instructions:
Heat oil in a pan and add peanuts, curry leaves, and raisins.
Add puffed rice and Suhana Chiwda Masala and mix well.
Sauté until the chiwda is crispy and aromatic.
4. Divine Gulab Jamun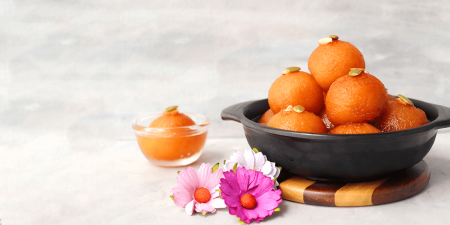 Gulab Jamun, the quintessential Indian dessert, is a true Diwali favourite. With Suhana's Gulab Jamun Mix, you can effortlessly prepare these soft, syrup-drenched delights. Here's how to make this heavenly sweet:
Ingredients:
Suhana Gulab Jamun Mix – 1 packet
Milk – 1 cup
Ghee – for frying
Sugar syrup – as needed
Cooking Instructions:
Mix Suhana Gulab Jamun Mix with milk to form a soft dough.
Shape the dough into small balls and deep fry until golden brown.
Soak the fried jamuns in warm sugar syrup until they absorb the sweetness.
5. Fluffy Khaman Dhokla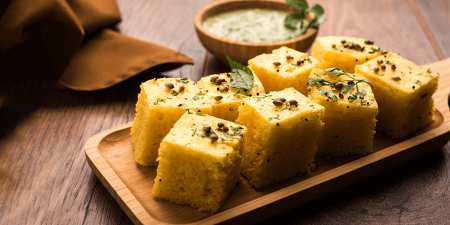 Khaman Dhoka, a spongy steamed cake, makes for a delightful snack during Diwali. Use Suhana's Khaman Dhokla Mix to effortlessly create this light and fluffy treat. Here's how to make this savoury delicacy:
Ingredients:
Suhana Khaman Dhokla Mix – 1 packet
Water – 1.5 cups
Oil – 2 tablespoons
Mustard seeds – 1 teaspoon
Curry leaves – a few leaves
Cooking Instructions:
Mix Suhana Khaman Dhokla Mix with water to form a batter.
Steam the batter until it's cooked and fluffy.
Temper with mustard seeds and curry leaves for an added zest.
Discover Some Healthier Snack Options for a Wholesome Diwali Celebration
While Diwali is synonymous with indulging in traditional sweets and snacks, it's crucial to strike a balance between festive treats and health. Try these healthier alternatives for a guilt-free celebration, infused with the delightful flavours of Suhana Masala products:
1. Fruit Chaats with a Twist: Fruit chaats are the perfect refreshing and wholesome snacking option, especially for the evenings. Sprinkle some chaat masala over your fruit chaats will give you the perfect blend of tanginess and spice.
2. Savor the Roasted Delights: Elevate the flavour of your roasted snacks like Makhana, peanuts, almonds, seeds, and much more, by adding an authentic smoky essence that will surely tantalize your taste buds.
3. Delightful Steamed Modaks: Infuse your steamed modaks with the aromatic essence of delicious mixtures, enhancing their taste and making them an irresistible and healthier festive treat.
4. Enhance Low-Fat Desserts: Add a dash of cardamom powder to your low-fat desserts, bringing out the rich and fragrant essence of your sweets without compromising on your health goals.
As you relish these delightful festive snacks, remember to maintain a well-balanced diet by incorporating a variety of nutrients. Include an assortment of fruits and vegetables in your meals to ensure a wholesome intake of essential vitamins and minerals. Opt for whole grains and lean proteins to support overall well-being. Additionally, don't forget to stay adequately hydrated by consuming an ample amount of water throughout the day. Enjoy a Diwali filled with both deliciousness and nourishment!
You can use these healthy snacking options and focus on a balanced nutritional approach, while enjoying the festivities without compromising on flavour or your well-being.
Whether it's the traditional sweets or the healthier alternatives, Suhana's range of authentic masalas and mixes can add that special touch to your Diwali preparations, making the festivities even more memorable.
Let this Diwali be a celebration of love, light, and delectable flavours. Happy cooking and a joyous Diwali to you and your loved ones!